Castle Training Academy courses are designed to teach you and give you a detailed and highly practical knowledge in health and safety and environmental subjects such as noise, vibration, air sampling and audiometry.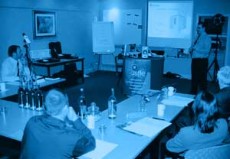 These courses are held over a few days in the scenic surroundings of Scarborough in North Yorkshire and cover much of the information you will need to understand the subject. We also bring in the tools and meters so you can get hands-on experience of measurement and can understand and analyse the results.
Course cover a range of topics, each designed for certain working environments, and include Noise At Work, Air Sampling and COSHH, Industrial Audiometry, Human Vibration (including hand-arm and whole-body vibration), Condition Monitoring, Environmental Noise Assessment and the 3 excellent IOSH courses for working, managing and directing safely.
Click Here for more information about the Castle Training Academy