Noise complaints are common from people living near pubs and clubs. Live bands, karoke and other entertainment can cause serious problems from noise pollution. Many venues have lost entertainment licenses because of these problems. The Electronic Orange helps to prevent the problems.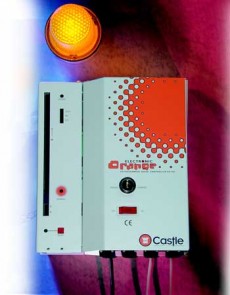 Let the music play with the Electronic Orange.
The Electronic Orange is a sound meter which continually measures the noise level in a venue and gives a visible warning as the levels get too high. If the noise level increases to far the power to the PA or speaker system is shut off.
Approved for use by environmental health authorities and used throughout the world, the Electronic Orange has helped many pubs and clubs keep their entertainment license and stop the complaints from local residents.