We run a series of seminars about current legislation and information about some of the most important aspects of health and safety at work. These seminars are free to attend and are run throughout the country every month.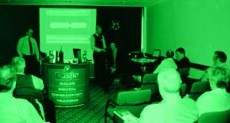 The Control of Noise at Work and Control of Vibration at Work regulations have come into effect in the last few years and updated earlier versions of the same legislation. It is important that employers understand their requirements when it comes to noise and vibration and this is an excellent seminar which covers the most important aspects of the legislation.
Control of Substances Hazardous to Health (COSHH) Regulations 2002 are designed to give employers detailed information about safe exposure limits in working environments from chemicals, gases and other dangerous substances. This seminar covers information about your requirements.
Audiometry is an essential part of covering noise at work. Employers are required to give employees hearing checks when they are known to be working in environments which have excessive noise levels. The seminar covers the requirements of employers, the Control of Noise at Work Regulations 2005 and standards related to human hearing.
Covering legislation regarding Environment Noise, this seminar deals with standards and legislation including Planning Policy Guidance, noise surveys, noisy neighbours and entertainment venues such as pubs and clubs. An ideal introduction to council officers and those working in construction.