When working areas are subject to noise levels which are intermittent there is not always a need for workers to use hearing protection. The Noise Activated Warning Sign is a sound meter designed to light up only when necessary – at times when noise levels become dangerous and workers are required to wear hearing protection or leave the area.

Built for tough industrial settings the Noise Activated Warning Sign has a built in sound meter and large, clear sign which indicates exactly when hearing protection must be worn. Warning text is supplied to required standards but custom signs are also available.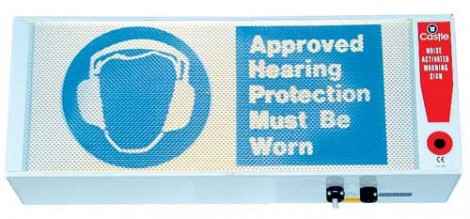 The design of the Warning Sign enables more than one sign to be used at once – a slave system means larger working areas can be covered with extra signs being linked together. There is also the option to use a small flashing beacon attached to the sign case or a larger beacon connected remotely.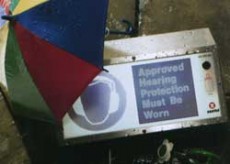 The Warning Sign is a self contained unit and is shipped ready to install by any qualified electrician. Front panel text has "Hearing Protection Must Be Worn" as standard but we also have different signs to suit your needs. For example, entertainment venues can use the "Music Too Loud" sign.
We also have a system designed in a waterproof stainless steel case for the food industry or areas where liquids and humidity are a factor.
Click Here For the full range of the Noise Activated Warning Sign systems