Working in certain environments can mean changes in noise levels which may, at times, be dangerous and damage hearing. The Sound Check Personal Noise Indicator is a simple and easy to use device which has lights which show when noise levels become dangerous.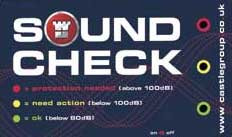 Designed not just for workers in industrial areas, the Sound Check is also useful for pubs, clubs, music venues or other leisure activities where noise can be a problem.
Sound Check has 3 LEDs – red, green and amber – which light up when certain noise levels are reached. Green for 80dB, Amber for 80-100dB and red for levels above 100dB.
Sound Check is a simple, at a glance device for everyone. We can even get yours branded for a company or event!
Click here for more information about Sound Check and to order yours